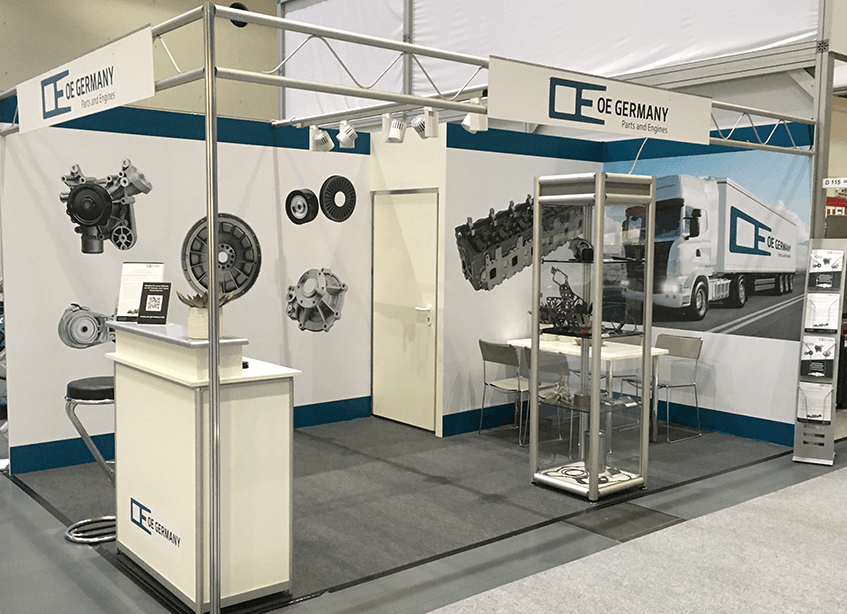 OE Germany at NUFAM Karlsruhe 2021
At this year's commercial vehicle trade fair NUFAM in Karlsruhe, which took place from September 30th to October 3rd, OE Germany presented its extensive product range for the first time in this environment. The focus was on the presentation of wear parts such as water pumps, oil pans, oil coolers, assemblies, injectors, gasket sets and much more.
The visitors could not only convince themselves of the extensive product portfolio of OE Germany, but also of the high brand and product quality. In addition to wear parts, OE Germany offers modern Euro 6 and gas engines, applications and shortblocks.
On Thursday evening, a varied evening event took place at the fair under the motto ,,Las Vegas". Likewise in this course, the award of the journalist price commercial vehicle of the "Wort und Werkstatt" took place. As one of the awarding companies, OE Germany had the honor of presenting the 2nd place journalist award. After the award ceremony, the Karlsruhe trade fair center was transformed into a casino, so that everyone could try their luck.
In a trade fair film, which was shot on site, OE Germany was also able to present itself and offer further insights regarding its portfolio. The remaining days of the fair could be used for interesting discussions and the establishment of new contacts.
We would like to thank all interested parties for visiting our booth and for the stimulating exchange!